International Law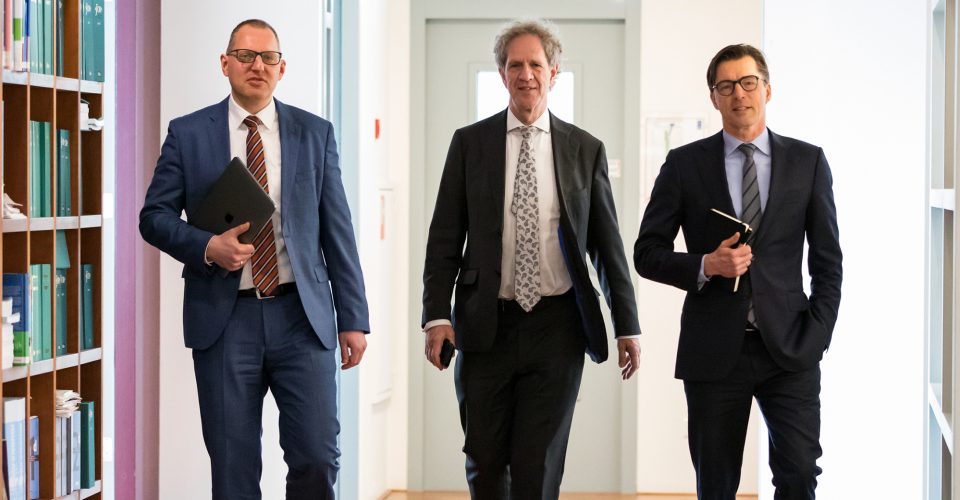 International Law: a craft
Traditionally, the Netherlands is a trade nation. For centuries, we have been trading with surrounding countries and beyond. When issues form between parties from different countries, then there is a dispute in the field of international law.

There can be complications in the field of international law with respect to all legal areas handled by JPR's lawyers. For instance, what are the regulations for doing business abroad? What if you employ foreign workers? Which law applies? And which court is authorised? What do I need to take into account if I want to start a business in Germany? And what do I do if a foreign supplier goes bankrupt? Do the Dutch rules for agreeing to general terms and conditions also apply if I enter into a contract with a foreign company? How does the Vienna Convention on Contracts for the International Sale of Goods work? Is an international retention of title possible? What are the rules for cross-border mergers? How do we handle a marriage under foreign law? Can I also act against a foreign party that infringes my copyright? Which law applies if have been injured by a foreign product?

We apply international law for all these types of questions.
International law: two main categories
International law can be divided into two main categories: public international law and private international law.
Public international law
Public international law is also called the law of nations, or simply international law. The most well-known example in which international law is encountered in society is the Yugoslavia tribunal. Otherwise, it primarily concerns states and international (humanitarian) organisations. An ordinary citizen or entrepreneur will almost never come into contact with public international law.
Private international law
Private international law sets national rules to determine which law applies to a private law matter in which people or companies from various countries or various nationalities are involved.
Private international law
On 1 January 2012, Book 10 of the Dutch Civil Code entered into effect. It contains regulations for determining which system of law applies to a legal relationship with an international dimension. The terms conflict of laws, rules of conflict, or choice-of-law rule are also used for this.
Apart from the international law regulations in Book 10, there are also international and European regulations. Book 10 states that these international and European regulations take precedence with respect to Book 10. Should there be an international dispute, then it is first a matter of checking which international or European regulations apply.

European law as part of international law
European law has a special position in international law. Over the past decades, there has been a strong amount of Europeanisation, which also means that European legislation has increased. European legislation is extremely significant for the Netherlands. Every national rule that is in conflict with the law of th European Union is declared inapplicable. As such, European legislation is one of the primary pillars for a European dispute.
European legislation consists of a range of legal sources. The primary law of the European Union consists of the founding treaties. The European Union's secondary law consists of binding regulations, guidelines and decisions as well as non-binding resolutions and recommendations.

Knowledge of European legislation
Naturally, the JPR's lawyers are familiar with the national rules of conflict and are informed of current European legislation. We are the people to talk to if you wish to do business abroad, such as starting a company in Germany. For more information about European legislation, check the heading 'European legislation'.
International Practice Group (IPG)
In order to be of as much service to our clients as possible, JPR has affiliated itself internationally with the International Practice Group (IPG). This allows us to help clients do business abroad even better. In case of a dispute, then the JPR lawyer can determine which law applies. The lawyer can also see which court has authority. If the conclusion is that a foreign system of law applies and/or a foreign court has authority, then we have excellent contacts with foreign lawyers via the International Practice Group. In that case, we can refer you to one of our foreign colleagues, or cooperate with them. Feel free to contact us if you are looking for a lawyer in another country.
Alpmann Fröhlich Rechtsanwälte
Most business is traditionally conducted with our German neighbours. In the region of our head office, the East Netherlands, especially there are numerous disputes with a German aspect. Starting a company in Germany, hiring or dismissing an employee who lives in Germany, being presented with German terms and conditions, being married in Germany; all of them are cases that we have handled. For the matters with a German aspect, we employ the assistance of Alpmann Fröhlich Rechtsanwälte. Alpmann Fröhlich Rechtsanwälte employs lawyers who speak Dutch, so clients are assisted across the border in their own language.

Doing business abroad
International trade is your core business. Legal advice in this field is ours. For more information on doing business across national borders, please see the heading 'doing business abroad'.
International law is a true craft. The experts at JPR are well versed in international and European legislation. In most cases, this begins with assessing applicable law and, in case of court proceedings, assessing the authorised court. General terms and conditions, the Vienna Convention on Contracts for the International Sale of Goods, the Rome I or Rome II Regulation, the EEX Regulation, Brussels I and II and the regulations for international business in our Civil Code are used to check how a specific problem must be handled.
We will gladly be of service, whether it concerns an international trade matter, an international family matter, or an international employment issue.
And if it would turn out that a system of law applies and/or a different court is authorised other than the Dutch, then we have partners all over the world (International Practice Group) and closer by (Alpmann Fröhlich Rechtsanwälte and International Desk) so we can continue to be of assistance. JPR is the perfect firm to contact if you intend on doing business abroad or if you are already doing business abroad.

All lawyers within the legal field International Law