Business Law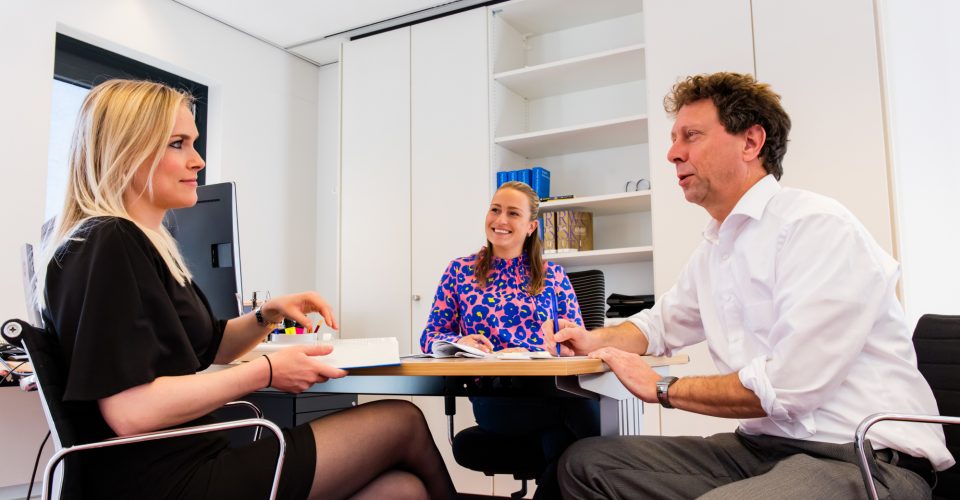 The lawyers of JPR Advocaten, masters of business law
Are you looking for a business law lawyer who can truly provide a worry-free experience and can make a valuable contribution to your business results? With 40 specialist lawyers in the east of the Netherlands, JPR Advocaten has a solid base to assist entrepreneurs in an ever more complex society. Business law is a broad field. What is actually part of it? JPR's lawyers interpret business law as a combination of all legal issues an entrepreneur might face when running their business. It ranges from drawing up contracts, collecting from debtors, to providing advice for an (impending) bankruptcy of the entrepreneur itself or one of their main clients or suppliers. The law firm that states to feel fully at home in business law must always be ready for the entrepreneur. This applies equally to JPR Advocaten's lawyers. In addition, they are equipped with industry-specific knowledge so they can be a true sparring partner for the entrepreneur!
Business law
What is considered the work field of a business law lawyer? It is one of the most extensive fields and encompasses so much that the lawyers who work in this field can truly be called legal jacks of all trades. Below, you can find examples of the various components of business law.
Legal form and company structure
Does your company have the right legal form and is the corporate structure well designed The legal form of a company covers, for example, a one-man business, a partnership (general partnership (vof), professional partnership (maatschap) or limited partnership (cv)), a private limited company (bv) or public limited company (nv), or an association or foundation. Every legal form has its own benefits and drawbacks. Furthermore, it is vitally important that there is a good and well-considered distribution of authorisations and responsibilities within the organisation. This helps avoid many problems or at least identify issues on time. JPR Advocaten's lawyers are often faced with shareholders who can no longer work together. In such cases, a good dispute could offer a solution. Most articles of association of private limited companies are standard texts for the most part and do not include proper dispute settlement regulations. This often leads to parties ending up in a seemingly endless series of proceedings, which costs a lot of money and, on top of that, causes a lot of emotional stress. JPR's business law lawyers can assist you.
Contract law
Do you, as an entrepreneur, always have a good idea of how many, and what type of agreements are entered into on behalf of your company? This is often not the case, or does not occur very often. Usually agreements are not even on paper anymore. This is sometimes due to the fact that so many agreements are entered into that there is no use putting it all on paper. The speed at which action is required, or the minor importance of the individual transactions could justify this. However, this does not mean it is not a good idea to understand which risks and liabilities are tied to the agreements entered into. Using good templates or standard agreements can be of help here. Contract law is part of the scope JPR Advocaten's business lawyers. A good contract does not need to be expensive. If a specific agreement is very common, then the use of a well-designed template could be the solution. If there is a range of changing situations, then a piece of custom text will need to be provided, for which we can make good price agreements.

Many entrepreneurs have general terms and conditions. Naturally the content needs to be sounds. This means that periodically checking the conditions is extremely important; are they up-to-date? A thing many entrepreneurs do not know or simply forget is that general terms and conditions must become part of the agreement to be entered into. In practice, this is not as simple as it sounds. Prior to or upon entering into the agreement, the general terms and conditions must be declared applicable and preferably submitted. This means that a reference to the general terms and conditions as deposited with the court or Chamber of Commerce is insufficient. It is not uncommon for things to go wrong in this respect.

The business law experts of JPR Advocaten can assist you in drawing up (standard) agrements. After all, they are the foundation of your business.
Intellectual property and IT
Are you an entry-level entrepreneur or developing as an entrepreneur? Then chances are that you will encounter a matter involving intellectual property rights. If you have developed a new product, then would it actually be good to register the product? And what happens if someone else runs off with your brand name or domain name? JPR Advocaten can be of service by providing advice or conducting proceedings on your behalf. Here, too, JPR Advocaten moves beyond simply looking at the case from a legal perspective; your interests are of primary concern, interests JPR Advocaten protects in the most pragmatic way.

Apart from intellectual property law, JPR Advocaten always provides for IT law. In the current day and age computers, telephones and the internet are commonplace. JPR Advocaten assists both software suppliers and software users with, among other things, drawing up contracts. Moreover, JPR Advocate provides advice on, e.g. cookie legislation and the warranted and unwarranted emailing of newsletters. How far can you go? What privacy regulations must an entrepreneur comply with. JPR Advocaten offers practical answers to these intellectual property and IT and other business laws issues.
Insolvency law
There are good times and bad times. An important part of business law is insolvency law or bankruptcy law. Bankruptcy is a nightmare for many entrepreneurs. This includes bankruptcy of your own company, but oftentimes the bankruptcy of a major supplier or primary client can cause major issues. JPR Advocaten offers specialist lawyers in the field of bankruptcy or insolvency law that can guide you as an entrepreneur through turbulent economic times.

Bankruptcy does not necessarily mean the end of the company. Led by a skilled lawyer who understands what went wrong and what needs to be better can, it is possible in some cases to build foundations that allow for working towards a healthy commercial future after bankruptcy. This requires the lawyer to have sound knowledge of the industry and the business operations. The entrepreneur must trust the assistance of their consultant. Under these conditions, a well-prepared bankruptcy scenario may offer a solution. Variations on this theme, such as a pre-pack or suspension of payment can also be of added value. Even if it is about knowing the consequences of an insolvency scenario in advance.

If you would rather avoid bankruptcy, then JPR's lawyers can help you find a creative solution. An extrajudicial compulsory composition could be an option. In special circumstances, a suspension of payment could temporarily ease the pressure. Often this is an indicator of bankruptcy, but here, too, there are some proposals that should increase the chances of restructuring outside of bankruptcy. Every situation and every company is unique and thus require custom approaches. By talking to one of JPR Advocaten's lawyers in time increases your company's chances of survival, even in difficult times.

The insolvency law experts of JPR Advocaten are often employed by the courts to act as insolvency practitioners or administrators. As a result, they know the pitfalls of such complex situations.
Mergers and acquisitions
Have you spotted an opportunity to spread your wings and acquire a fellow entrepreneur or enter into a long-term partnership, for example? Or are you ready to present your company to the next generation or a competitor after years of hard work building your company? In this situation, too, one of JPR Advocaten's expert business lawyers can provide expert guidance. Merger and acquisition processes are very complicated. It begins with the first exploratory meetings; what information do you provide and under what conditions do you give it? A confidentiality agreement or letter of intent is often more than an obligation to keep information secret or state your intentions. There are many templates, which in the most cases will need to be adjusted based on the wishes of the parties. There will be a subsequent due diligence study and finally, if all parties involved agree, the agreements will need to be recorded on paper. It the purchase sum cannot be paid as a lump sum, then part of the purchase sum can remain in the company as a subordinated loan. Another option is to record a suspended payment based on the results of the transferred company, a so-called earn-out scheme.

If you are about to sell your company, then the process begins much sooner. Are the employment contracts of your employees in order, in line with industry standards and easy to find? Have agreements with suppliers and customers been recorded correctly and are they accessible? Is the company administration easy to understand for prospective buyers? These are all questions an entrepreneur must ask themselves if they intend to sell their company. First impressions are very important to prospective buyers. And let's be honest: if you sell your car, you make sure it is washed and cleaned. And to stick with the metaphor: the company needs to be in a good working condition, too!

The experts of JPR Advocaten will gladly assist you for these important mergers and acquisitions.
Procedural law
Entrepreneurs are keen to settle disputes in mutual deliberation. Unfortunately, this will not always be possible. In these cases, the court will have to make a ruling. Conducting proceedings is expensive. As such, it is always important to keep an eye on the importance of the dispute. For this, too, the business lawyers of JPR Advocaten are the right match for you. They can point out all the risks and opportunities for any proceedings. Should action be taken right away, or should property for which recourse is available be secured first? Then you can consider attachment or preliminary relief proceedings. In many cases, more legal clarity is obtained through preliminary relief proceedings. A good position for court proceedings depends firstly on the legal position, but can be significantly influenced by measures such as attachment, for example.

Dispute settlement comes in many shapes and sizes. The 'standard court', a binding adviser, an arbitrator or mediation. You can explore your options together with your business lawyer. This also includes a cost assessment. Based on the nature of the dispute, and the interests involved, you can determine which method offers the highest chances of a satisfying solution.

Procedural law holds no secrets for JPR's lawyers, whether it involves attachment, collection procedures or binding advice procedures.
Conclusion; business laws in all shapes and sizes
Business laws has many aspects. You, as an entrepreneur, has a need to meet with a lawyer from time to time who provides input and can add value or limit costs instead of increasing them. The timely employment of legal assistance can contribute to this significantly. And there does not always have to be a problem to ask for assistance. By talking to a business law experts on time you can prevent a lot of harm. It might be a good idea to have meetings at fixed times.

Because they have a sound knowledge of your industry and its legal background, JPR Advocaten's lawyers are perfect sparring partners with a no-nonsense approach and a pragmatic attitude.

For an exploratory meeting, contact one of JPR's business lawyers to see in which ways JPR Advocaten can add value to your company or organisation. We can also provide advice for company law, for example.
Brookz Legal 50
We have been included in the Brookz Legal 50. JPR provides advise for a range of transactions. For instance, with the help of JPR's acquisition lawyers, employment agencies, a transport company and IT companies have been transferred. This has not gone unnoticed; JPR has been included in Brookz' Legal 50. Brookz is the largest acquisition platform of the Netherlands and brings together buyers, sellers and consultants via its website and national meetings. Visit our profile on Brookz here.
NFV membership
JPR Advocaten issues advice to and successfully guides franchisees and franchisers. This has led to us becoming part of the select club of associated NFV members and we are so proud of this!
Visit our profile here on NFV.nl. Do you, as a franchiser or franchisee need legal support and advice? Feel free to contact us.
All lawyers within the legal field Business Law